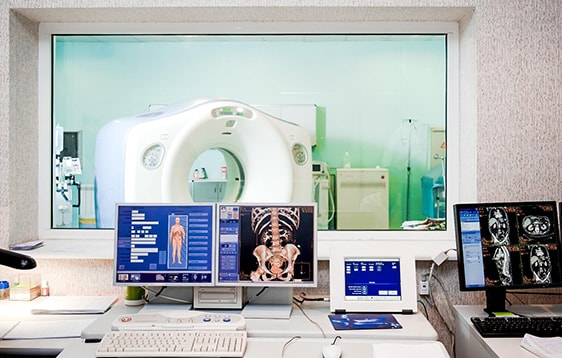 R-Tech Solutions Medical Logistics
R-Tech Solutions was founded in 2006 by Jim Roller who was previously employed by another medical logistics company who handled all of GE Medical logistics throughout North America. R-Tech Solutions is a strong growing certified Medical Logistics Company that serves in the installing, de-installing, relocation, crating and transporting of Medical Imaging equipment. Our employees are trained on numerous types of modalities including Mammography, Ct Scanners, R&F Suites, Cath labs (single and bi-plane) as well as RAD Suites, Nuclear Cameras and everything in between. R-Tech Solutions also offers site check and room readiness visits as well as equipment inspections upon request.
R-Tech Solutions is excited to work directly with all Hospitals throughout North America and abroad as well as all OEM's.
R-Tech Solutions gives you peace of mind with the professional experience that you are looking for in a company. R-Tech is your solution for engineering, construction and lite rigging where required. R-Tech Solutions will pack, prepare, crate, transport, and store equipment upon request as well. With quality and professional as a priority, we make the entire process easy and effortless from the beginning of the project to the end.
What Our Clients Say
" I have dealt with Jim roller and his Organization for a little over 3 years maybe more. Very dependable very professional does what he says he's going to do and you can always count on Jim to do the right thing. Very trustworthy with my customers and that's huge in today's business world will always continue to do business with Jim and his organization. "
" I have been using R-Tech Solutions for all my de-installation needs. Jim Roller and his team are true professionals when it comes to removing the equipment, cleaning the room before leaving and delivering the systems. I have the upmost confidence in them when it comes to taking care of all my equipment deinstall needs. "
" I've used Jim and his group on several occasions to pull radiology equipment from me. I can still remember the first time I met Jim at a fluoro room removal in Maryland. I was immediately put at ease with his professionalism and capabilities. The equipment was taken out in a very professional manner and packaged very well. Communication throughout was great! I've always received positive feedback from the facilities to which I've sent R-Tech. Jim is a pleasure to work with. "
" My first encounter with Jim @ R-tech solutions was about 4 ½ years ago when we met in Chicago. We were pulling a GE Cath lab. He was truly professional and was able to adapt and overcome many obstacles that we had encountered during the 3 days of work. Since that time Jim and his crew have completed numerous jobs for me. I am more than happy with R-Tech's work. "
" Imexsal, Corp. has worked with R-Tech Solutions for several years. We have used them over the years for deinstallation & storage of medical imaging equipment. They are prompt, courteous and proficient in the services that they offer. "
Contact us to learn more about us and how we can help you.